Here's everything you need to know about the world of television for Thursday, January 23rd, 2020. I'm writing this from the Twin Cities, where AllYourScreens HQ is powered by coffee snagged from a Fox swag bag.

WHAT IS THE LONG-TERM FUTURE OF CBS ALL-ACCESS?
The latest CBS All-Access original series "Star Trek: Picard" premieres today and it's a reminder that of all the major streaming platforms currently on the market, I find the long-term strategy of CBS All-Access the most perplexing. It's in the same pricepoint neighborhood as Disney+ and basic ad-supported Hulu. But it offers a lot less content, especially when you are just looking at content that is exclusive to CBSAA.

The service has always been an odd mix of strategies. On the one hand, it's more of an affiliate support play than anything else. It offered an early and easy way for CBS affiliates to stream their signals along with some recent CBS content. And apparently, CBSAA kicks back a percentage of the subscriber fee to the local affiliate. Although CBS is also reportedly using that revenue as a way to claw back more retransmission money from its affiliates. And CBS also uses the monthly affiliate payment as a floor for retransmission negotiations with cable and satellite systems. "Hey, we'd LOVE to give you the CBS channel for that price, but CBSAA has a most-favored nations clause and this is what they pay!" It's all a bit inside and it's also not at all clear from the outside how it all works.

It's also tough to judge from the outside just how successful CBS All-Access is overall. CBS doesn't break out individual subscriber numbers for CBSAA, instead lumping them together with Showtime's streaming business. Executives have said on background that the CBSAA sub number is somewhere the 5,000,000 range. But that number has never been confirmed publicly, so I'm skeptical.

CBS executives have projected an eventual subscriber base for CBSAA and Showtime at about 20 million in the United States. But I find that number to be wildly optimistic based on what we know publicly. The plan is to eventually release one new original series per month and one tentpole original such as "Picard" once a quarter. But given that CBS has eagerly sold off streaming rights to its recent shows to rival streamers and with CBSViacom taking the same "revenue first" approach to licensing, it's difficult for me to see where this growth comes from.

There have persistent rumors that CBS might combine CBS All-Access and Showtime into one platform. But even with that combination, growing to 20 million subscribers seems tough. I've attempted to get more insight from company execs, but so far without any luck.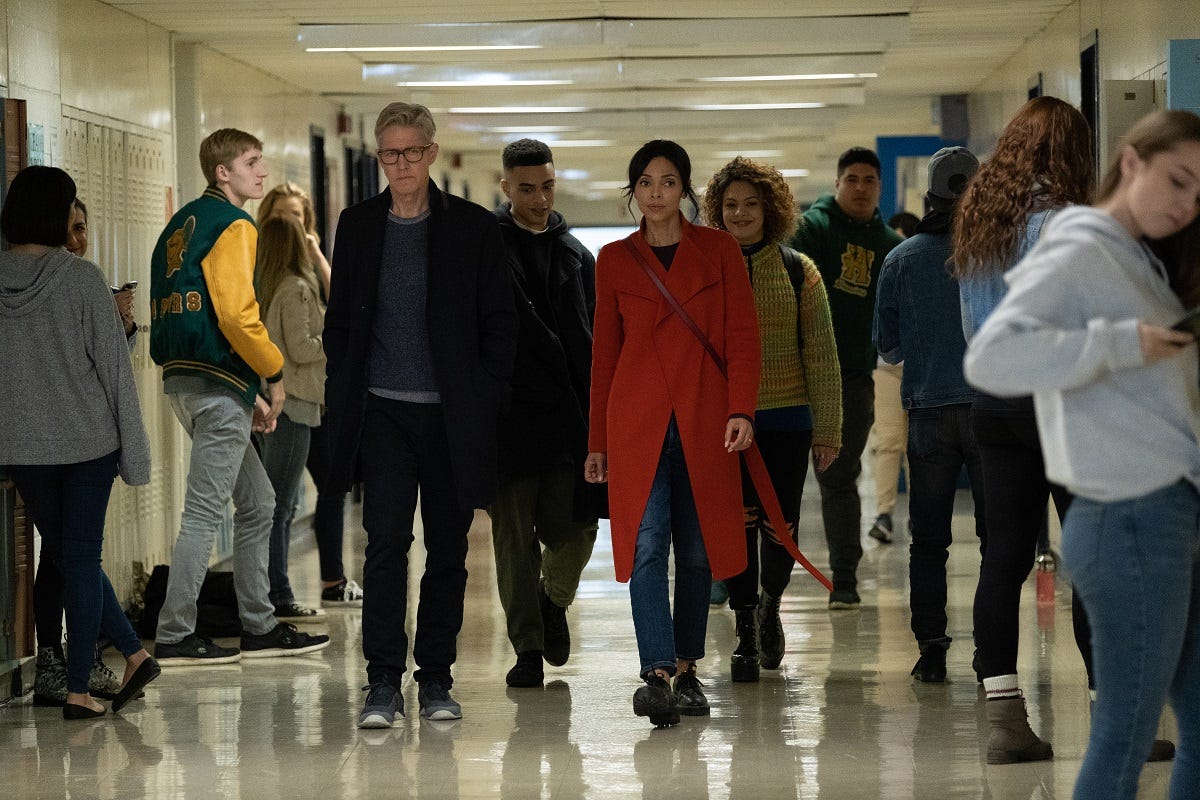 Lots of new stuff today. Ah, for the days when January was a slow month in the TV world....

1) Airplane Mode (Netflix)
When Ana, a young social media influencer, crashes her car because of her addiction to her cellphone, she is grounded and shipped to her grandfather's farm with one catch: she's not allowed to use her phone.

2) A Million Little Things Spring Premiere (ABC)
It's been three months since Delilah and Eddie revealed the truth about their affair, and Sophie continues to rebel against her mother. Maggie, Gary and the gang gather for the opening night of Danny's play, and Rome and Regina take steps toward adopting a baby.

3) Carrie Caravas: Men, Flaws, & Menopause (Crackle)
Shot at the Argyle Theatre in Babylon, NY, this is the first full-length special for Caravas.

4) Death By Friendship (LMN)
Hope (Brown) has always been close to her daughter Lacy (Fisher), but worries that that she's pulling away ever since her divorce. When Lacy brings home a new friend, Cassie (Steele), it seems Lacy might be back on track. Their blossoming friendship drives a wedge between Lacy and her best friend, Harper (Sandill). When Harper unearths Cassie's dark past, she tries to warn Hope, who writes it off as teen girl jealousy. But soon Lacy realizes Harper was right and Cassie is a lot more dangerous than she appears.

5) Grey's Anatomy Spring Premiere (ABC)
Following the car crash at Joe's Bar and subsequent rescue efforts led by the Station 19 firefighters, Grey Sloan doctors work through the night to save the lives of their colleagues. Meanwhile, Amelia worries about sharing her pregnancy revelation with Link. Owen and Teddy take a big step, and Bailey deals with grief over her recent loss.

6) October Faction (Netflix)
Monster hunters Fred (J.C. MacKenzie) and Deloris Allen (Tamara Taylor) hide their identities as members of a covert syndicate while their teenage kids, Geoff (Gabriel Darku) and Viv (Aurora Burghart), are forced to live in a town trapped in the past. From the comics by Steve Niles and Damien Worm.

7) Outmatched Series Premiere (Fox)
For most parents, parenting is hard. But for Kay (Maggie Lawson), a caustic, take-no-prisoners casino pit boss, and husband Mike (Jason Biggs), a handyman and uncultivated guy's guy, parenting may as well be advanced calculus. Dealing with the demands and egos of three high-IQ children would be tricky for any parent, but it's especially hazardous for two working stiffs who barely got through high school. Mike and Kay are committed to bringing some normalcy to their kids' hectic, unconventional childhoods, but these geniuses don't make it easy.

8) Saint Seiya: Knights Of The Zodiac (Netflix)
Masami Kurumada's "Saint Seiya" was animated in 1986 by Toei Animation and is one of the most successful franchises in the world. To date, more than 35 million copies of the original manga have been published, and Toei Animation has produced more than 250 episodes of TV series and six theatrical films, which have been broadcast and released in more than 80 countries and regions. Even after more than 30 years, it is a work that has been loved all over the world as a game and figure as well as a manga / anime. Netflix's original series, "Saint Seiya: Knights of the Zodiac," is a remake CG animation of a smash hit manga depicting the growth and adventure of a boy, Seiya, who fights as a warrior called Saint to protect the goddess Athena.

9) Star Trek: Picard Series Premiere (CBS All-Access)
This new series features Sir Patrick Stewart reprising his iconic role as Jean-Luc Picard, which he played for seven seasons on "Star Trek: The Next Generation." The new series will follow this iconic character into the next chapter of his life. Alongside Stewart, the show also stars Isa Briones, Santiago Cabrera, Michelle Hurd, Alison Pill, Harry Treadaway and Evan Evagora.

10) Station 19 Spring Premiere (ABC)
After a car crashes into Joe's Bar, Andy and Sullivan lead the team of firefighters as they work to rescue their fellow crewmates Ben and Pruitt, Grey Sloan doctors and interns, and bar patrons before the building comes crumbling down.

11) Swamp People Season Premiere (History)
In the season premiere, the swampers are faced with a gator invasion that's threatening their community like never before. Determined to protect their neighbors, Troy Landry teams up with swamp legend Terral Evans, Jacob Landry enlists python expert Dusty Crum to join the hunt, and veteran swamper Ronnie Adams puts his new partner, Ashley "Dead-Eye" Jones to the test as they venture into a wild swamp known as "the cemetery."

12) The Bold Type Season Premiere (Freeform)
In the season 4 premiere, Scarlet reels over their new dynamic, forcing everyone to adjust. Jane tries to cope with the changes to Jacqueline's role at the magazine and joins forces with Kat and Sutton to make it clear how much she means to them. Sutton takes stock of her position at Scarlet, as Richard considers a world outside it. Kat butts heads with RJ Safford over his response to the new direction of the magazine.

13) The Dead Lands (Shudder)
A co-production with New Zealand's TVNZ, "The Dead Lands" features a supernatural adventure set in a mythic Māori past, with an aesthetic that's part "Ash vs Evil Dead" and part "Xena: Warrior Princess". The series features a murdered Māori warrior, Waka Nuku Rau (Te Kohe Tuhaka), who's sent back to the world of the living to redeem his sins. But the world Waka returns to is ravaged by a breach between Life and the Afterlife as the spirits of the newly dead now stalk the land and hunt the living.

14) The Ghost Bride (Netflix)
"The Ghost Bride" is set in 1890s Colonial Malacca. Li Lan has been offered a marriage proposal from the wealthy Lim Family to become the "ghost bride" to their recently deceased son. Her family will be saved from a lifetime of debt, but she'll spend the rest of her life being haunted by the Lim family's son. Desperate to get out of this ghastly arrangement, she soon finds herself wrapped up in a murder mystery and embroiled in other-worldly affairs much bigger than she could have ever imagined.

For a rundown of all the new episodes of television premiering tonight, click here.

TOO MUCH TV REALLY IS A THING
This newsletter is called "Too Much TV" because....well, it's hard to keep track of all the new television premiering everyday. To help you prioritize your viewing, click here to see our list of more than 400 upcoming television premieres, movies and finales. You'll find listings from more than 70 networks, as well as streaming services and web shows.


I'll be back with another one tomorrow. If you have any feedback, send it along to Rick@AllYourScreens.com and follow me on Twitter @aysrick.