Too Much TV: Your TV Talking Points For Monday, July 8th, 2019
Here's everything you need to know about the world of television for Monday, July 8th, 2019. I'm writing this from the Twin Cities, where AllYourScreens HQ is running on unsweetened ice tea and maple caramel ice cream.

SOMETIMES 'LIVE' TV IS STILL PRETTY BORING
Scheduling a live two-hour event is always unpredictable, but I don't envy the challenges faced over the past few days by the History Channel. It had planned to follow-up its popular "Evel Live" special from last year with "Evel 2," which was scheduled to air last night. This new special was built around two attempts to break world stunt records.

Freestyle motocross athlete Axell Hodges was set to attempt to jump farther than anyone ever has on a motorcycle – a distance that was set in 2011 at 378 feet and 9 inches by Robbie Maddison. And four-time X Games Medalist Vicki Golden hoped to set a new world record in an epic live motorcycle firewall stunt. Unfortunately for History, after successfully hitting the mark more than 20 times in practice, Hodges severely injured both ankles in a practice run just days before the live event. So Sunday's two-hour live special ended up being a lot of recapping of the history of stunt attempts and a recap of Hodges' accident, ending with Golden's successful motorcycle run through 12 burning walls. The special had some interesting vintage footage and of course Golden's run was fun. But despite the best efforts of Matt Iseman, the show seemed verrrryyyy long.

TOO MUCH TV REALLY IS A THING
This newsletter is called "Too Much TV" because....well, it's hard to keep track of all the new television premiering everyday. To help you prioritize your viewing, click here to see our list of more than 400 upcoming television premieres, movies and finales. You'll find listings from more than 70 networks, as well as streaming services and web shows.

And if you're a glutton for punishment (or just want to know what you've missed), check out this list of all the shows that have premiered so far in 2019.

WHAT'S NEW ON TV TONIGHT:
Commander Neil Armstrong and lunar module pilot Buzz Aldrin, landed the Apollo 11 Lunar Module Eagle on on the moon on July 20th, 1969 and tonight television begins rolling out an impressive number of specials highlighting their accomplishments:

1) Challenger Disaster: The Final Mission (Nat Geo)
The film follows the tragic story of the historic space shuttle Challenger and its crew. The events of the days leading up to the disaster are detailed using no narration or new interviews; instead, the story is told through journalists' reports, rarely seen images, extensive recordings from NASA and interviews with those who were part of the one-of-a-kind mission.
2) Chasing The Moon (PBS)
This new special from "American Experience" thoroughly reimagines the race to the moon for a new generation, upending much of the conventional mythology surrounding the effort. The three-part series recasts the Space Age as a fascinating stew of scientific innovation and PR savvy, political calculation and media spectacle, visionary impulses and personal drama. With no narration and using only archival footage — including a visual feast of previously lost or overlooked material — the film features new interviews with a diverse cast of characters who played key roles in these historic events. Among those included are astronauts Buzz Aldrin, Frank Borman, Bill Anders, and Poppy Northcutt, the 25-year-old "mathematics whiz" who gained worldwide attention as the first woman to serve in the all-male bastion of NASA's Mission Control, among others.

3) Explorer: Journey To Europa (Nat Geo)
Europa — an icy moon of Jupiter 485 million miles away from Earth — may be our best hope for finding alien life in our solar system. Today, an innovative class of explorers and scientists is planning a trip to Europa to answer the question — could there be life?

4) Fast N' Loud Season Premiere (Discovery)
This season, Richard and the Monkeys are tuning into a whole new groove at Gas Monkey Garage with bigger builds and higher horsepower. Motor mastermind Richard Rawlings travels the back roads, searching barns, garages and open fields for that one rare ride to restore. Once the deal is sealed, it's back to Gas Monkey Garage where Richard and his team work to turn the cars into gold. The new season takes Richard and the Monkeys into unfamiliar territory as they attempt to break new ground in the build space, risking their reputation in the process. Also, throughout the season, guest builder Big Mike works with the Monkeys to build custom hot rods.

5) Fortune Fights Season Premiere (Reelz)
The saying more money more problems definitely rings true with some celebrity mega fortunes. Whether it's a pricey divorce, shocking inheritances for unprepared heirs or untimely deaths when a wealthy celebrity has a massive estate there's often an army of people nudging around for their cut of the pie.

6) Scream Season Three Premiere (VH1)
Season three — which was originally supposed to premiere in March 2018 — has been completely reworked with a new cast, showrunner, and executive producing team.
Mary J. Blige is set to play Sherry Elliott, the mother of lead character Delon Elliot (RJ Cyler). The third season of Scream is set in Atlanta and centers on Delon, a star running back for his high school football team whose tragic past comes back to haunt him, threatening both his plans for the future and the lives of his friends.

Blige and Cyler are joined by castmates Keke Palmer (Scream Queens), Tyler Posey (Truth or Dare), Tyga, Gloria Whigham (The Punisher), Jessica Sula (Split), C.J. Wallace (Kicks) and Giullian Yao Gioiello (Iron Fist). The new season will also feature the return of the original Ghost Face mask for the first time in the series and will feature the return of Roger Jackson to voice the killer from the films.

7) The Armstrong Tapes (Nat Geo)
This one-hour documentary provides a personal and in-depth look at Neil Armstrong, the first man on the moon. Armstrong's sole authorized biographer, family members and colleagues sit down with National Geographic to reveal an intimate look at one of the world's greatest and least-known heroes.

8) The Lost Corvette (History)
In 1983, for the first time since the brand's inception in 1953, Chevrolet did not release a Corvette model for that year. Designs were drawn, parts ordered but no car was ever released. On what would have been a celebratory 30th anniversary – no 'Vette hit the market. In this special, die-hard Corvette expert and builder Chris Mazzilli will try to fix this missing piece of muscle car history as he and his team build a one-of-a-kind 1983 Corvette from the ground up. The creation will be presented to a panel of experts, including the Corvette designers who pulled the plug on releasing the '83 originally, to see if it's worthy.

9) Chuck Norris's Epic Guide To Military Vehicles (History)
Some of the most innovative and mindboggling cars are not on the streets – they are helping the military pound the pavement and cross terrain around the world. From an amphibious truck that can charge over deep sea and water in a flash, to a six-wheeled Humvee with more firepower than some tanks – Chuck Norris will take viewers on a tour through the wildest vehicles in the history of the Armed Forces.

For a rundown of all the new episodes of television premiering tonight, click here.


TODAY'S FLASHBACK:
From the July 8th, 1989 edition of TV Guide: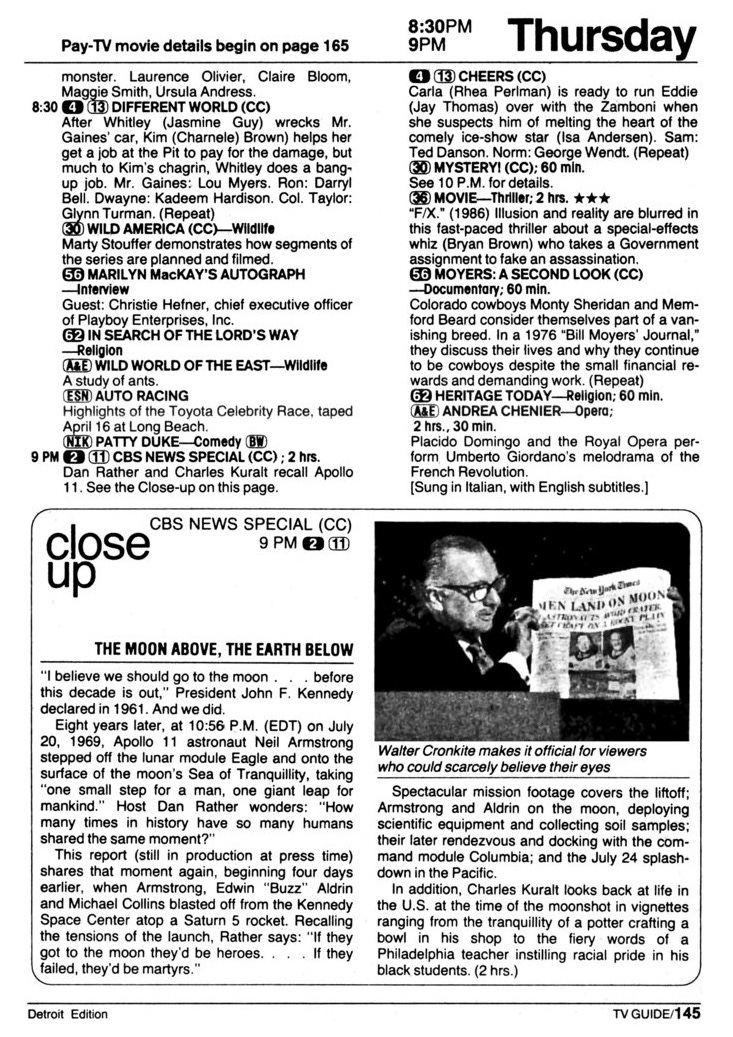 I'll be back with another one tomorrow. If you have any feedback, send it along to Rick@AllYourScreens.com and follow me on Twitter @aysrick.
---