Too Much TV: Your TV Talking Points For Tuesday, November 19th, 2019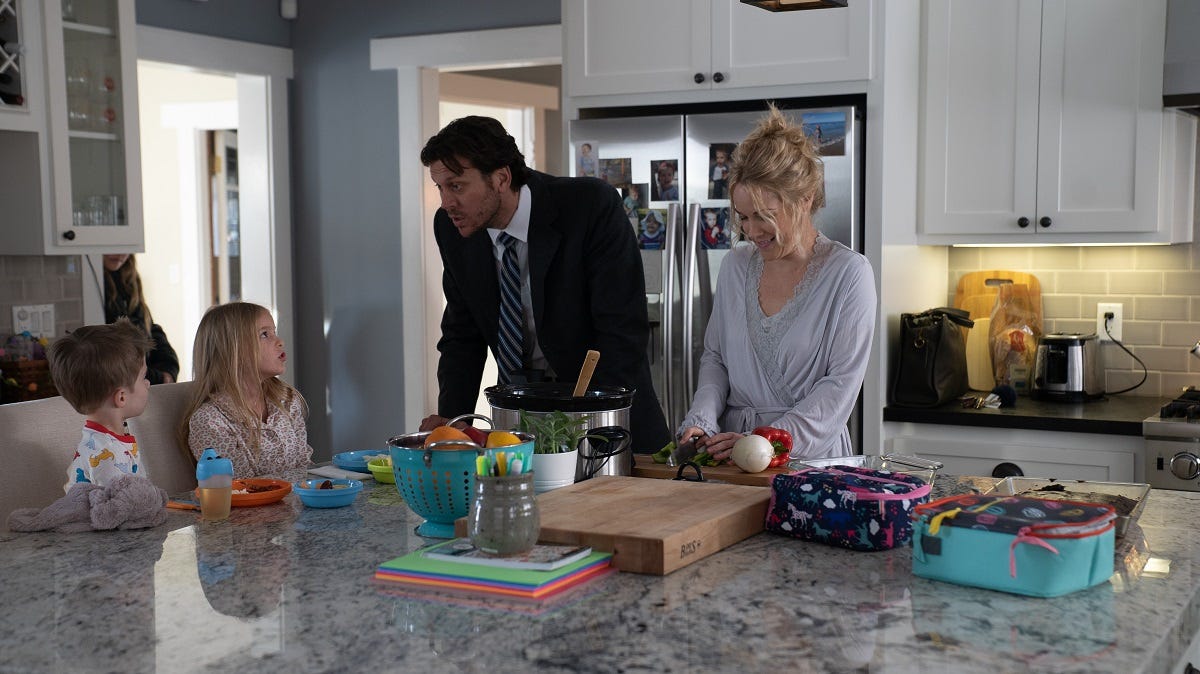 Here's everything you need to know about the world of television for Tuesday, November 19th, 2019. I'm writing this from the Twin Cities, where a sick AllYourScreens HQ staff is living on Tylenol and peppermint candies.

VUDU WANTS TO PAY YOU TO WATCH 'MR. MOM'
If you're the average television viewer, you probably have no idea that someone produced a series based on the Michael Keaton movie "Mr. Mom" or that it recently was released on Vudu. Actually, it's likely you have no idea what Vudu might be. And there's no need that you should be familiar with either one of those facts.

Vudu is a streaming service owned by Walmart. Walmart also wants to sell it, but that's another discussion. Vudu is primarily a platform to buy or rent digital movies and television shows, but the service also has a section called "Movies On Us," which offers about 3,000 movies and 300 seasons of television for free (but with ads). Not surprisingly, their free service isn't well-known, so last year Vudu signed a deal with MGM to create original programs based on MGM intellectual property. The first project under the terms of the deal was the "Mr. Mom" reboot, and as I noted in my review, it's not very good.

Which brings us to the reason why Vudu is sending out an email to existing customers of their paid service offering people a $3 credit if they watch the entire run of "Mr. Mom" and answer some questions about the show. This might sound like a way to get feedback on the new series, but the truth is apparently a bit more devious. According to a couple of people I've spoken with, the viewer numbers for the show were pretty disappointing, which is a problem for Vudu. Because one of the non-public terms of the deal with MGM is that Vudu promised a certain number of people would watch "Mr. Mom" and they are quite short of that mark. And that performance could kill future Vudu/MGM projects. So Vudu is doing whatever it can to goose the viewing numbers, including sending emails to Vudu customers with a $3 proposal.
HBO MAX WANTS TO BE YOUR NEW CABLE BUNDLE
The new AT&T streaming service HBO Max launches in April and it will include everything you see on HBO, along with a wide range of movies and television shows owned by WarnerMedia - including every episode of "Friends" and "The Big Bang Theory." But at Monday's Recode's Code Media conference in Los Angeles, John Stankey, CEO of WarnerMedia told the audience that the company is setting its sights higher than just launching a successful streaming service:

"We're basically unbundling to rebundle," he said of the current streaming wars, where content companies are pulling shows from Netflix and launching streaming services like Disney+ and HBO Max. "At some point there will be platforms that re-aggregate and rebuild. ... We'd like [HBO Max] ultimately to be a place where re-aggregation occurs," he added.

This is the opposite of the direction the industry has been heading, with Netflix, Disney, HBO, and other media giants splintering off to create their own subscription services. But Stankey alluded to "the frustration" among consumers with this "fragmentation" and said ultimately a winning move will be to create a new version of a TV bundle.

It's an interesting theory, but it seems....optimistic for a company that's struggled to get its HBO Max streaming service off the ground. The initial subscriber base will come from current HBO subscribers and users of several telecoms who have agreed to offer HBO Max to their customers for free. But that's about as far as you can get from being the next generation cable bundle.
It's another slow day of premieres, but things pick up on Thursday.

1) Ernie And Joe (HBO)
In San Antonio, Texas, a small team of police officers are responding to individuals going through mental health crises in an innovative way and putting compassionate policing practices into action with dramatically positive results. This documentary follows Texas police officers Ernie Stevens and Joe Smarro, who are part of the San Antonio Police Department's thirteen member Mental Health Unit. Chronicling their daily and sometimes harrowing encounters with people in crisis, the documentary shows how their innovative approach to policing, which takes mental health into account, can help diffuse dangerous, potentially deadly situations and lead people to critical mental health services instead of jail – one 911 call at a time.

2) Iliza Shlesinger: Unveiled (Netflix)
Iliza Shlesinger is back in her fifth Netflix original comedy special. Armed with the newly wed ring on her finger and stories to tell, Iliza pulls back the veil on wedding planning, garters, honeymooning, and the dangers of a zombie bachelorette army.

3) Moonshiners Season Premiere (Discovery)
Cable television has a number of zombie television shows. Long-running series that don't get much attention but are also relatively inexpensive and are guaranteed to draw enough of an audience that the finances make sense. Discovery's "Moonshiners" falls into that category and it kicks off season nine tonight with a two-hour premiere. There will be moonshining...and problems of some kind.

4) No Time for Shame (No hay tiempo para la verguenza) (Netflix)
A documentary series following the life and work of provocateur fashion designer and influencer Santiago Artemis

For a rundown of all the new episodes of television premiering tonight, click here.

TOO MUCH TV REALLY IS A THING
This newsletter is called "Too Much TV" because....well, it's hard to keep track of all the new television premiering everyday. To help you prioritize your viewing, click here to see our list of more than 400 upcoming television premieres, movies and finales. You'll find listings from more than 70 networks, as well as streaming services and web shows.

And if you're a glutton for punishment (or just want to know what you've missed), check out this list of all the shows that have premiered so far in 2019.

I'll be back with another one tomorrow. If you have any feedback, send it along to Rick@AllYourScreens.com and follow me on Twitter @aysrick.