Too Much TV: Your TV Talking Points For Wednesday, July 17th, 2019
All the stuff you need to know about todayb io
Here's everything you need to know about the world of television for Wednesday, July 17th, 2019. I'm writing this from the Twin Cities, where AllYourScreens HQ is running on flat root beer and Chex mix.

'THE BACHELOR' CREATOR MIKE FLEISS ACCUSED OF ATTACKING WIFE
According to a piece posted Tuesday afternoon by Variety, veteran producer and creator of "The Bachelor" Mike Fleiss has been accused of attacking his wife Laura Fleiss. Court papers filed in Hawaii show she asked for an emergency domestic violence restraining order against her husband after he allegedly attacked her and "demanded" she have an abortion.

AMC RELEASES THE FIRST IMAGE FROM NEW SEASON OF 'THE WALKING DEAD'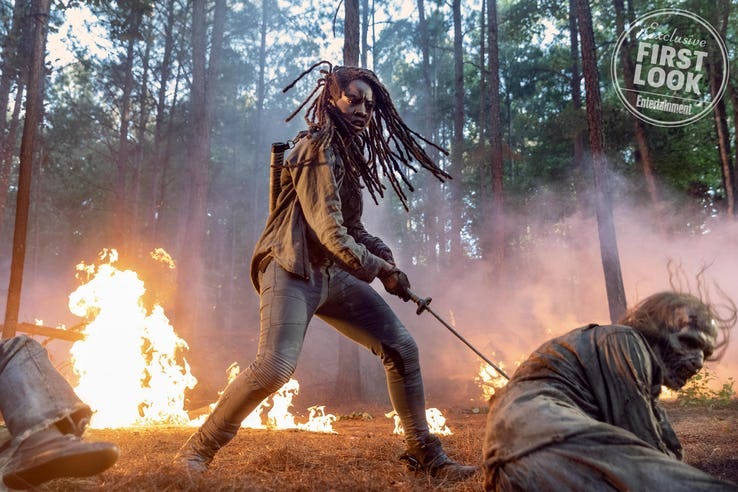 Entertainment Weekly has the exclusive first look at an image from the upcoming 10th season of "The Walking Dead." As you can see, the photo highlights Danai Gurira's Michonne, and this season is rumored to be her last on the long-running series.

"One of the things that we have going on this season is, we're continuing some explorations of natural elements and how they play into our world," showrunner Angela Kang told Entertainment Weekly. "And fire is one of those elements that comes into play in a few key ways that twist the story in a way that will be pretty exciting."

Kang didn't reveal much useful info about the upcoming season, other than the fact that the season premiere will feature another time jump, this one only a few months into the future following the climactic finale of season nine.

TOO MUCH TV REALLY IS A THING
This newsletter is called "Too Much TV" because....well, it's hard to keep track of all the new television premiering everyday. To help you prioritize your viewing, click here to see our list of more than 400 upcoming television premieres, movies and finales. You'll find listings from more than 70 networks, as well as streaming services and web shows.

And if you're a glutton for punishment (or just want to know what you've missed),check out this list of all the shows that have premiered so far in 2019.

NETFLIX Q2 EARNINGS COMING WEDNESDAY AFTERNOON
Streaming giant Netflix is reporting its second quarter 2019 earnings after the markets close on Wednesday and the company is expected to announce it has crossed the 150 million global paying subscribers mark. The subscriber number at the end of Q1 was 148.9 million and Netflix executives said at that time they expected to add about 5 million subscribers in the three months.

While a growing percentage of recent growth is coming from markets outside of the United States, by any measure it's an impressive growth rate. Netflix hit the 100 million subscriber mark two years ago and analysts expect it to cross the 200 million subscriber threshold in late 2020.

THE RISE OF THE DATECDOTES

One of the recent traditions in the Netflix quarterly investor calls is the company's fondness for dribbling out a few random viewing data points which are interesting, but don't really give a sense of actual viewing numbers or any other useful metric for investors.

A must-follow on Twitter for anyone fascinated by the business of entertainment is The Entertainment Strategy Guy, who brings real-world entertainment business experience to the conversation. In a recent piece for his web site, he described these random viewing facts as "datecdotes" and it's a pretty accurate description of their usefulness. These talking points always generate a lot of clicky entertainment stories, but that is about the extent of their usefulness.

See, the companies above aren't choosing between one or two data points. Or even a couple of dozen. These companies are literally choosing between millions of potential data points, which make these numbers some of the most selective anecdotes you could possibly come across.

The analogy (and yes it is in the title) is the old saw about the iceberg. 10% of the ice floats above the sea, with an even larger 90% below the water. This is how it feels when a streaming company drops their knowledge on us.

Go read the entire piece and follow him on Twitter.

WHAT'S NEW ON TV TONIGHT:
Here's a rundown of the modest number of new television shows and specials premiering Wednesday evening:

1) Man Vs. Shark Season Premiere (Nat Geo)
40 years after inventing armored suits that protect divers from attacks by smaller shark species of sharks, marine biologist, Jeremiah Sullivan, faces off against hungry hammerheads and deadly tiger sharks to measure their bite force, body strength and ability to chew through his advanced materials before creating new armor he'll test by putting himself inside the devastating jaws of a 14-foot tiger shark.

2) Man's Greatest Food Season Premiere (Cooking)
Roger Mooking goes on a culinary adventure through America to hunt down extravagant, can't-be-missed food. From steaks to barbecue, seafood to sandwiches and hamburgers to pizza, no eatery is too far out of the way for Roger to sample these mouth-watering culinary creations.

3) Pearson (USA)
The "Suits" spin-off series "Pearson" centers around the world of recently disbarred NYC powerhouse lawyer Jessica Pearson (Gina Torres) as she adjusts to down and dirty Chicago politics. Newly appointed as Chicago Mayor Bobby Novak's (Morgan Spector) right hand fixer, Jessica is quickly embroiled in a crooked and dangerous new world where every action has far-reaching consequences. With her compulsion to win, Jessica is forced to reconcile her unstoppable drive with her desire to do the right thing – two things very much at odds.

The series is executive produced by "Suits" creator and executive producer Aaron Korsh alongside executive producer and showrunner Daniel Arkin. Additional cast includes: Bethany Joy Lenz, Simon Kassianides, Eli Gore, Isabel Arraiza and Chantel Riley.

4) Pinky Malinky, Part Three (Netflix)
"Pinky Malinky" is a mockumentary style animated show that follows the everyday life of Pinky Malinky, an infectiously positive hotdog living in a human world. By always reaching for the stars, Pinky pushes himself further than anyone could imagine and proves that being a "wiener" is only one letter away from being a "WINNER"! Together with his two best friends, Babs and JJ, they navigate school in their beloved town of Sackenhack as only three best friends can.

5) POV: Bisbee 17 (PBS)
Bisbee, Arizona, was one of the largest copper mining centers in America until it became a virtual ghost town in 1975 when its two massive mines were closed. Forty years later, Bisbee is a community of eccentrics, immigrants, hippies, bikers and drifters, attempting to reckon with a dark and violent history of a forgotten event known as the Bisbee Deportation. "Bisbee '17" documents locals as they play characters and stage dramatic scenes from the controversial story, culminating in a largescale recreation of the deportation itself on the exact day of its 100th anniversary.

6) Suits Season Nine Premiere (USA)
The final season of "Suits" picks up with Manhattan corporate law firm, Zane Specter Litt Wheeler Williams, facing uncertainty and change yet again after Robert Zane (Wendell Pierce) took the fall with the Bar Association to save Harvey (Gabriel Macht). After his sacrifice, Samantha Wheeler (Katherine Heigl) is left reeling from the loss of her mentor, and while trying to console her, Harvey realizes that he doesn't want to lose the most important person to him: Donna (Sarah Rafferty). Season 9 will follow the legendary lawyer and COO balance their relationship with work, as they fight to salvage the firm's tarnished reputation alongside their partners, Louis Litt (Rick Hoffman), Alex Williams (Dulé Hill), Katrina Bennett (Amanda Schull), and Samantha. As the season progresses, our core characters' personal lives will be explored more deeply than ever before, setting up the series conclusion, in which everyone will finally be forced to decide exactly who they are and what kind of lawyers they want to be.

For a rundown of all the new episodes of television premiering tonight, click here.

TODAY'S FLASHBACK:
From the July 8th, 1989 edition of TV Guide:


I'll be back with another one tomorrow. If you have any feedback, send it along to Rick@AllYourScreens.com and follow me on Twitter @aysrick.