Too Much TV: Your TV Talking Points For Monday, October 7th, 2019
Here's everything you need to know about the world of television for Monday, October 7th, 2019. I'm writing this from the Twin Cities, where AllYourScreens HQ is running on coffee and coconut-flavored oatmeal.
I (HEART) 'BOB (HEARTS) ABISHOLA'
The new CBS comedy "Bob (Hearts) Abishola" airs its third episode tonight and if you haven't watched it yet, then what have you been doing with yourself? The series stars "Mike & Molly" co-lead Billy Gardell as Bob, a compression sock salesman who finds himself attracted to hospital nurse Abishola (Folake Olowofoyeku), who takes care of him after a heart attack. While you could argue the episodes we've seen so far could have included a couple of more punchlines, the show is funny, warm and filled with lives you don't see enough on television.

The show's ratings have been decent, but I find myself flummoxed by the network promotion for the show. CBS does a great job reaching its normal audience. But "Bob (Hearts) Abishola" needs to reach some different demographics to break big and so far I don't see a lot of that happening. I've been doing some interviews ahead of a piece on the show for next week, primarily talking with Nigerian immigrants about their thoughts on the premise. Aside from the fact that none of the people I spoke with who had heard the show knew Abishola was Nigerian, only one of them had watched the series so far. And yet when I asked them to sample "Bob (Hearts) Abishola" and give me their feedback, they uniformly loved it.

Granted, this isn't exactly a scientifically valid experiment, but it does reflect my suspicion that if CBS can get "Bob (Hearts) Abishola" exposed to as many viewers as possible, they'll have a solid, multi-season hit on their hands. Now if someone will just explain that weird "I'm playing an accountant in a porn movie" mustache Billy Gardell is sporting in the show.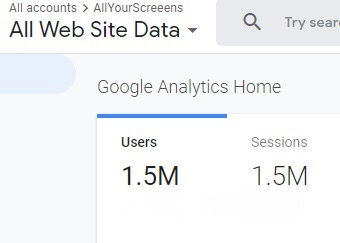 AND A SPECIAL THANKS
The past few months have been especially good here at AllYourScreens and traffic has risen month-on-month steadily since early 2019. We hit a new high mark for traffic in September with 1.52 million unique visitors and I thank all of you for the support.
Here's a rundown of the modest amount of television and streaming stuff premiering today:

1) All American Season Premiere (The CW)
The return of "All American" finds Spencer James (Daniel Ezra), now a football State Champion, with a tough decision to make. Does he stay in Beverly Hills and play for Coach Billy Baker (Taye Diggs)? Or does he move back home to South LA, reunite with his mother, Grace (Karimah Westbrook), brother, Dillon (Jalyn Hall), and play for his father, Corey (Chad Coleman) – the new head coach for the South Crenshaw Chargers? This isn't an easy decision for him to make because it's not just about football. It's about choosing between the people he loves. No longer is Beverly Hills just some affluent place that represents his shot out of the hood. Now, he has friends there, including his antagonist turned ally, Asher (Cody Christian), who's fighting to hold on to his football dreams. He has his girlfriend there, Layla (Greta Onieogou), who's secretly battling her own demons. And most importantly, he has a second family there in the Bakers – Billy, Laura (Monét Mazur), Jordan (Michael Evans Behling) and Olivia (Samantha Logan) – who are struggling to adapt to the new normal of their broken home. However, when Spencer's thrown an unexpected curve ball, the fallout to his life will end up affecting everyone he holds dear, including his best friend, Coop (Bre-Z), who's trying to take control of her life by stepping back from gangs and pursuing her musical dreams.

2) Below Deck Season Premiere (Bravo)
Returning this season are Captain Lee, Kate Chastain (Chief Stewardess), and Ashton Pienaar (Bosun). New crew members include: Kevin Dobson, Chef; Simone Mashile, Second Stew; Courtney Skippon, Third Stew; Brian de Saint Pern, Lead Deckhand; Tanner Sterback, Deckhand and Abbi Murphy, Deckhand.

3) Cash Cab Season Premiere (Bravo)
Bravo is reviving the Emmy Award-winning gameshow "Cash Cab" and bringing back host and comedian Ben Bailey. New Yorkers and tourists alike have pined for a chance to test their knowledge and win money in the iconic Cash Cab. Now, they may get a chance, and this time with a Bravo twist. In this series reboot, the questions will include more for lovers of pop culture and even a few appearances from Bravolebrities.

4) Match! Tennis Juniors (Netflix)
A tennis prodigy battles the odds to excel on the court while balancing schoolwork and inspiring fellow players on his team.

5) Private Lives Of The Windsors Series Premiere (Smithsonian)
Over three episodes, the series goes inside one of the planet's most famous families, revealing the inner lives of Queen Elizabeth's father, uncles and aunt – the first young royals ever to be thrust into the spotlight to win over public opinion as part of a royal rebrand.

For a rundown of all the new episodes of television premiering tonight, click here.


TOO MUCH TV REALLY IS A THING
This newsletter is called "Too Much TV" because....well, it's hard to keep track of all the new television premiering everyday. To help you prioritize your viewing, click here to see our list of more than 400 upcoming television premieres, movies and finales. You'll find listings from more than 70 networks, as well as streaming services and web shows.

And if you're a glutton for punishment (or just want to know what you've missed), check out this list of all the shows that have premiered so far in 2019.

I'll be back with another one tomorrow. If you have any feedback, send it along to Rick@AllYourScreens.com and follow me on Twitter @aysrick.

AND LET'S WRAP FOR TODAY WITH THIS BLAST FROM THE PAST
"Decoy" was a syndicated police series that ran for 39 episodes in 1957 and 1958. Beverly Garland starred as a Patricia "Casey" Jones, a female police officer who is often assigned to work undercover. She's a dedicated and serious cop who had no real life outside work. Inspired in part by the original "Dragnet," Garland was the only major character in every episode. But the show was memorable for a couple of reasons. "Decoy" was perhaps the first TV police series to have a female lead. And the show had a number of guest stars who went onto bigger things, including Ed Asner, Peter Falk, Larry Hagman, Diane Ladd, Suzanne Pleschette, Martin Balsam and Barbara Barrie.

Garland went on to have a long career in television. From 1969 to 1972, she played Barbara Harper Douglas, the woman who married widower Steve Douglas (Fred MacMurray) in the latter years of the sitcom "My Three Sons." In the 1980s, she co-starred as Dotty West, the mother of Kate Jackson's character, in the CBS television series "Scarecrow and Mrs. King." She also had a recurring role as Ginger Jackson on "7th Heaven."