Discover more from Too Much TV Newsletter
Your Daily TV Talking Points. A free daily rundown of all the television and streaming news you need to know today.
Too Much TV: Your TV Talking Points For Monday, July 27th, 2020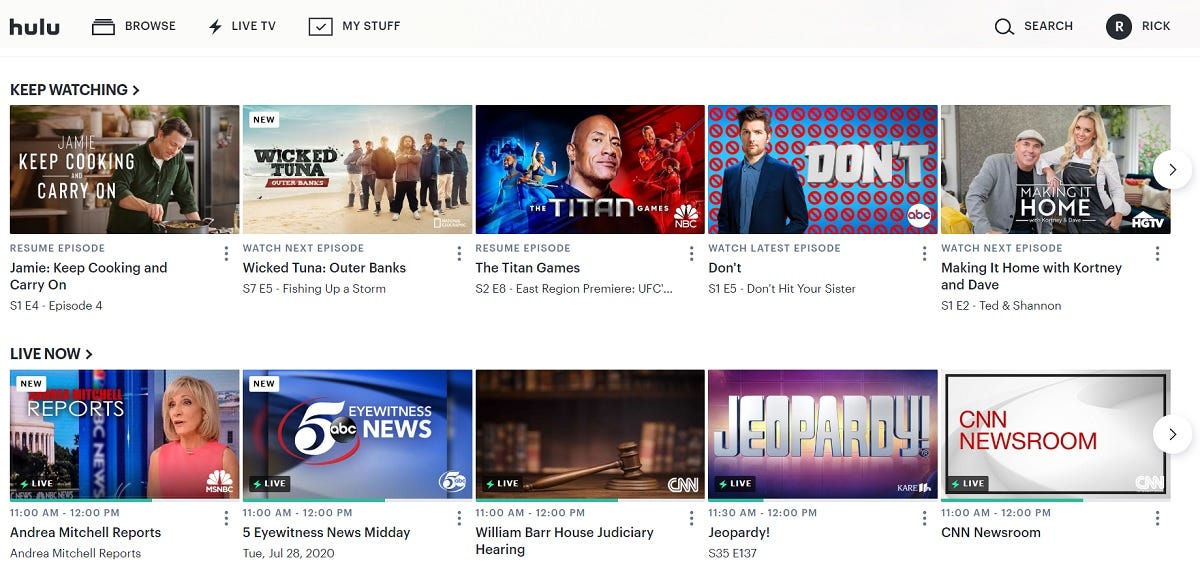 Here's everything you need to know about the world of television for Tuesday, July 28th, 2020. 8 writing this from outside diner in the Twin Cities suburbs, where AllYourScreens HQ is powered by buffalo cauliflower and french vanilla coffee.

HULU  REVAMPS ROKU INTERFACE
I am a user interface junkie. Maybe it's all the time I spent working for start-ups that lived and died by how their customers interacted with a web site. But I notice all sorts of minor changes and spend a fair amount of time trying to determine why the changes were being made.

While we do have an Apple TV device as well as an XBox, my primary streaming device at home is a Roku. And I noticed that last week, Hulu had made several very small tweaks to its interface on Roku. This was what the main page of the Hulu UI for Roku looked like earlier this week. The big change they made was making the default page when you opened up the app be the one to "continue watching" instead of "live now." The "keep watching" used to be buried maybe 4-5 columns over and I'm assuming the change was made to increase engagement by reminding subscribers they still had something to finish watching.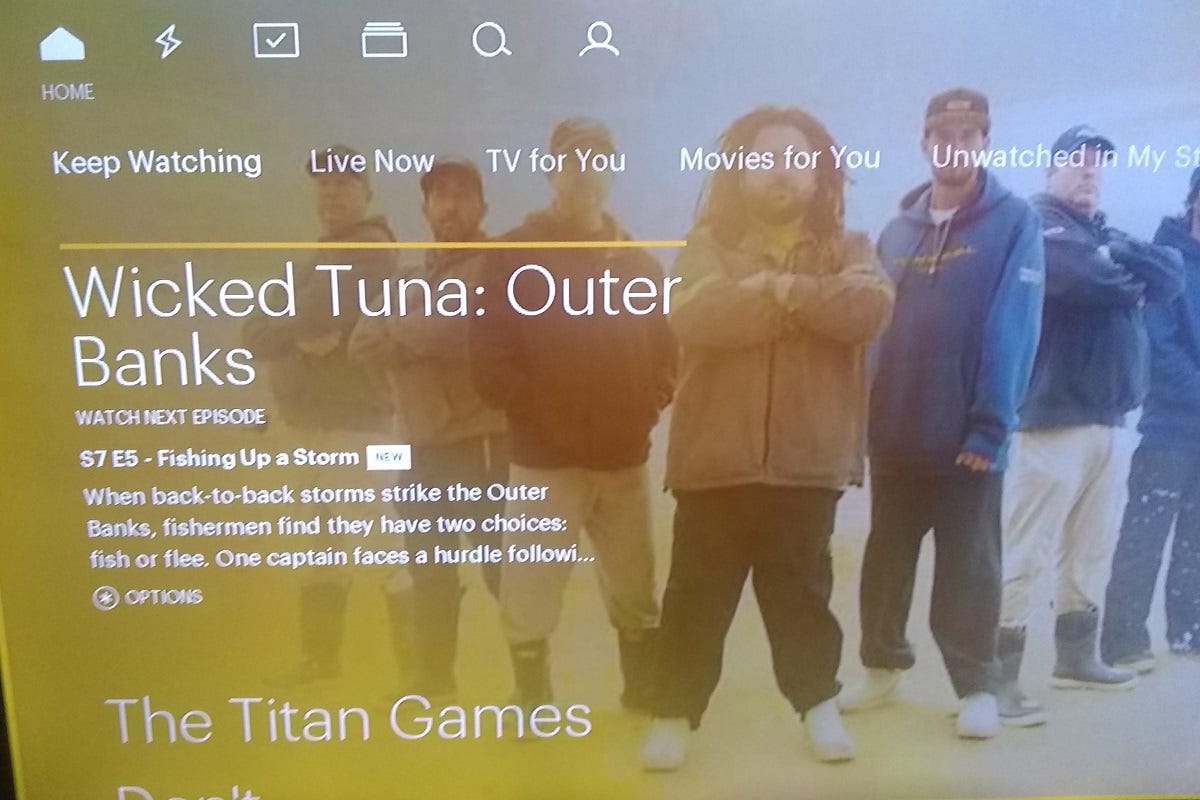 But last night, the interface changed drastically on one of our two family Rokus, with the UI changing from a scroll vertically approach to one that more resembles the web interface the one Hulu used to use for people who only subscribe to the base Hulu plan. I'm not sure why the change was made, although I suspect it might be because this horizontal approach is a more familiar look for many subscribers. And since Hulu is aggressively pushing its Hulu/Disney+/ESPN+ bundle, this new aligns more closely to what subscribers will find on the other services.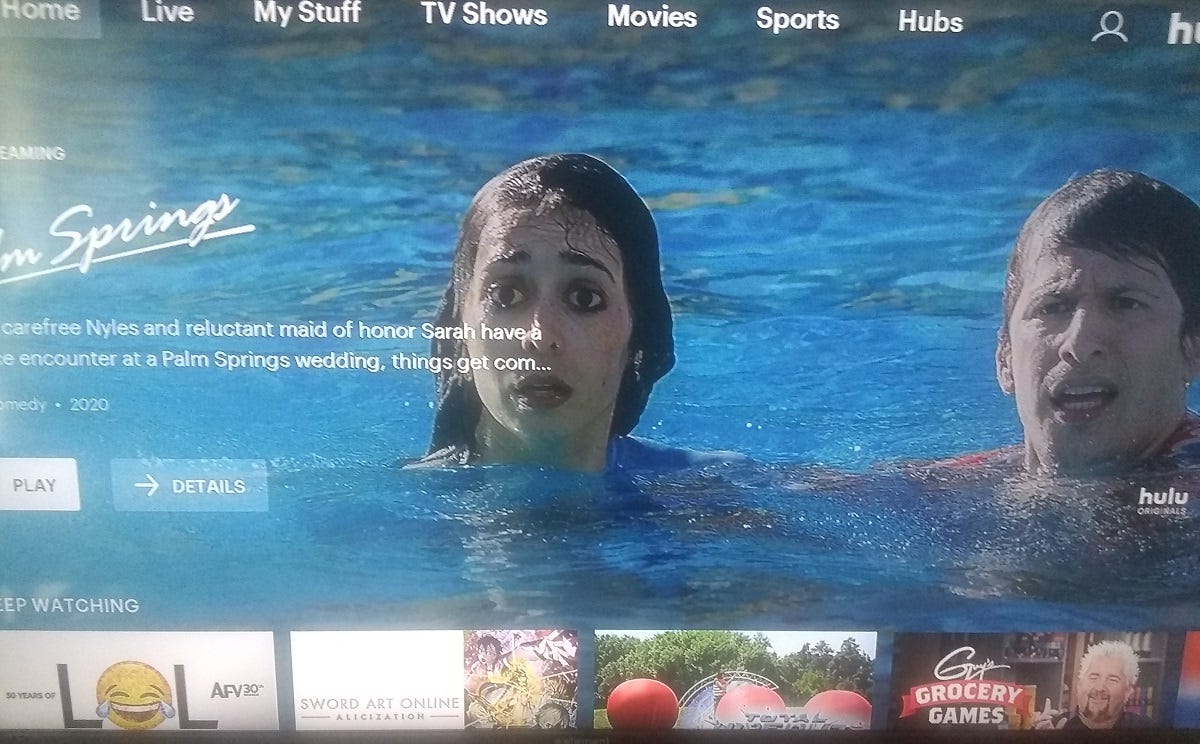 One other big change is to get rid of the "browse" link at the top of the page. Previously, the browse choice was a catch-all place to go when you needed to search for something and you weren't quite sure about the name. Or if you wanted to search by network or genre category: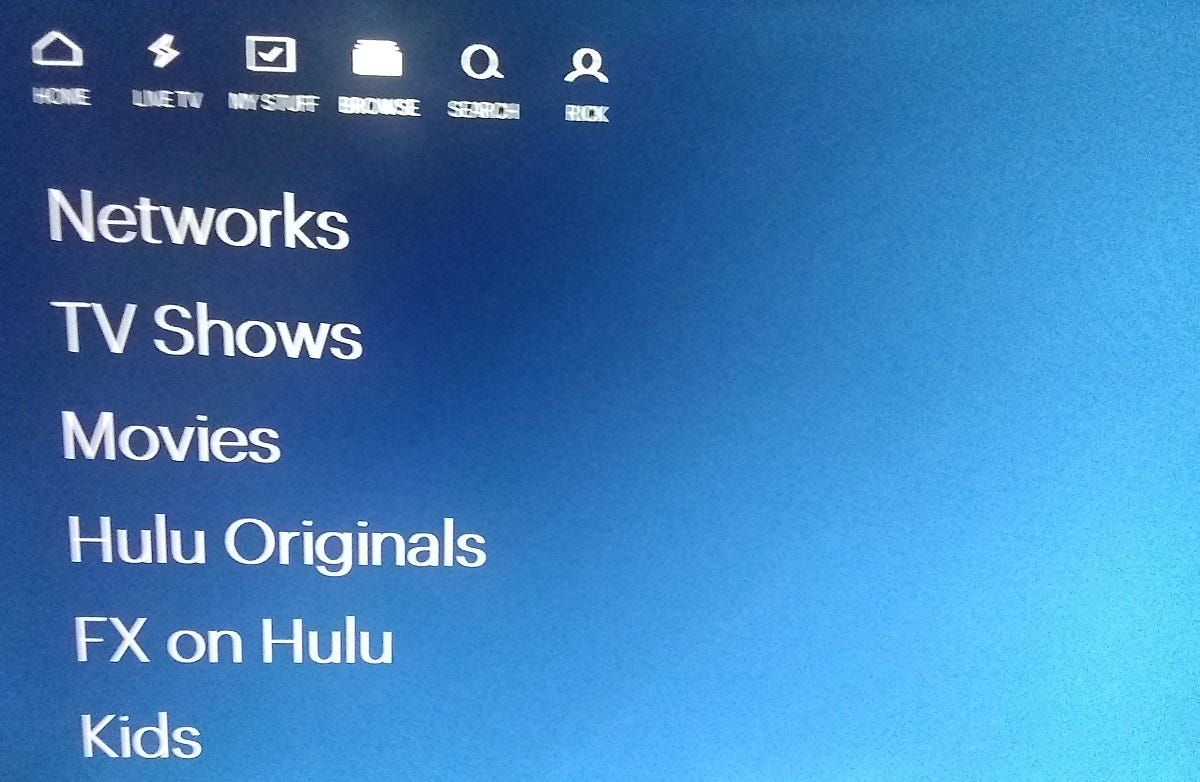 In this new UI, the "browse" tab has been replaced by a "hubs" tab, and you are able to search for networks if you go into the "TV" tab. This is what the new "hubs" tab looks like: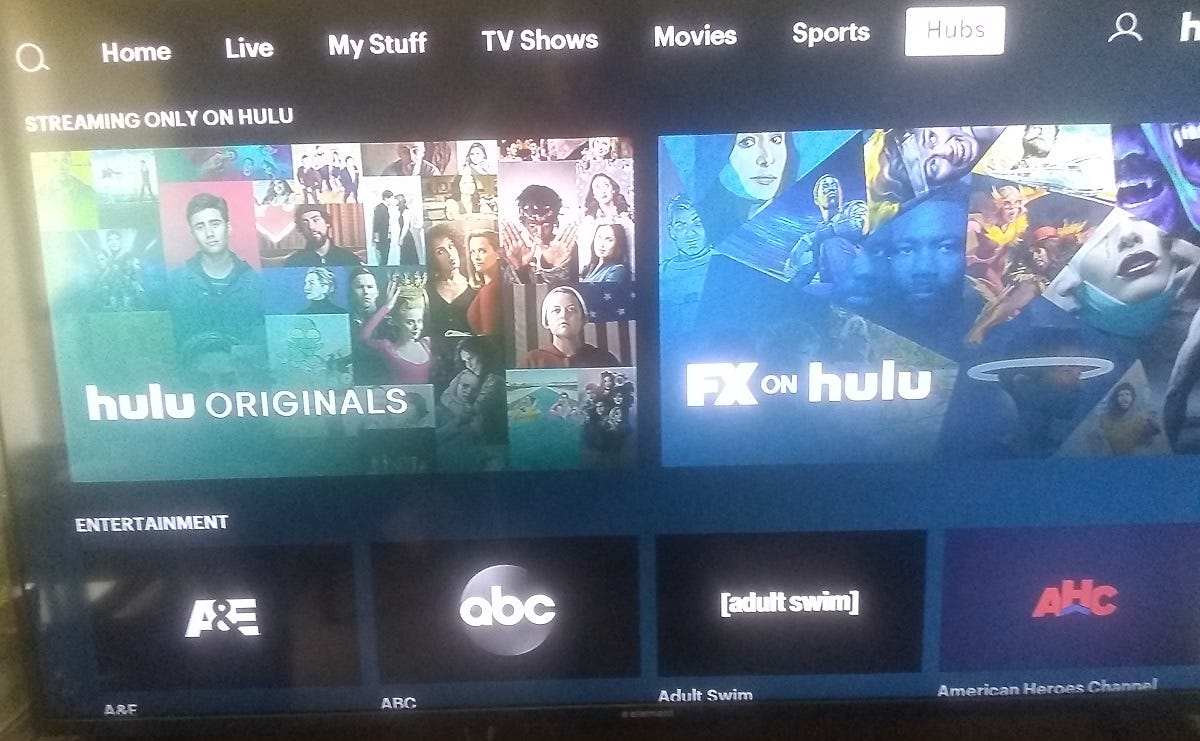 Right now, the only two hubs are Hulu original content and FX on Hulu. Both of those choices were previously available as one of the columns in the old scrolling interface. This move makes sense because it makes it easier to find both of these features when they are in a predictable spot. It also allows for additional content hubs in the future.

I'll write more about this UI as I continue to play around with it.

LINKS WE LIKE: If you're a fan of international television that isn't from the U.K., MHzChoice is a great choice. For $7.99 per month, you get television dramas and comedies from more than a dozen countries. If you'd like to try it out, there's a 7-day free trial and if you click on this link, you'll get the first month for 50% off. 

PBS LAUNCHES NEW PRIME VIDEO CHANNEL
PBS Distribution is launching a fourth channel on Amazon Prime Video on August 4th. PBS Documentaries will include the entire Ken Burns collection of documentaries as well as episode of "Frontline," "Nature," "American Masters," "Nova," "Independent Lens," "POV" and others. The channel will cost $3.99 a month. PBS also offers three other channels on Amazon: PBS Living, PBS Masterpiece and PBS Kids. PBS Living is also available through Apple TV.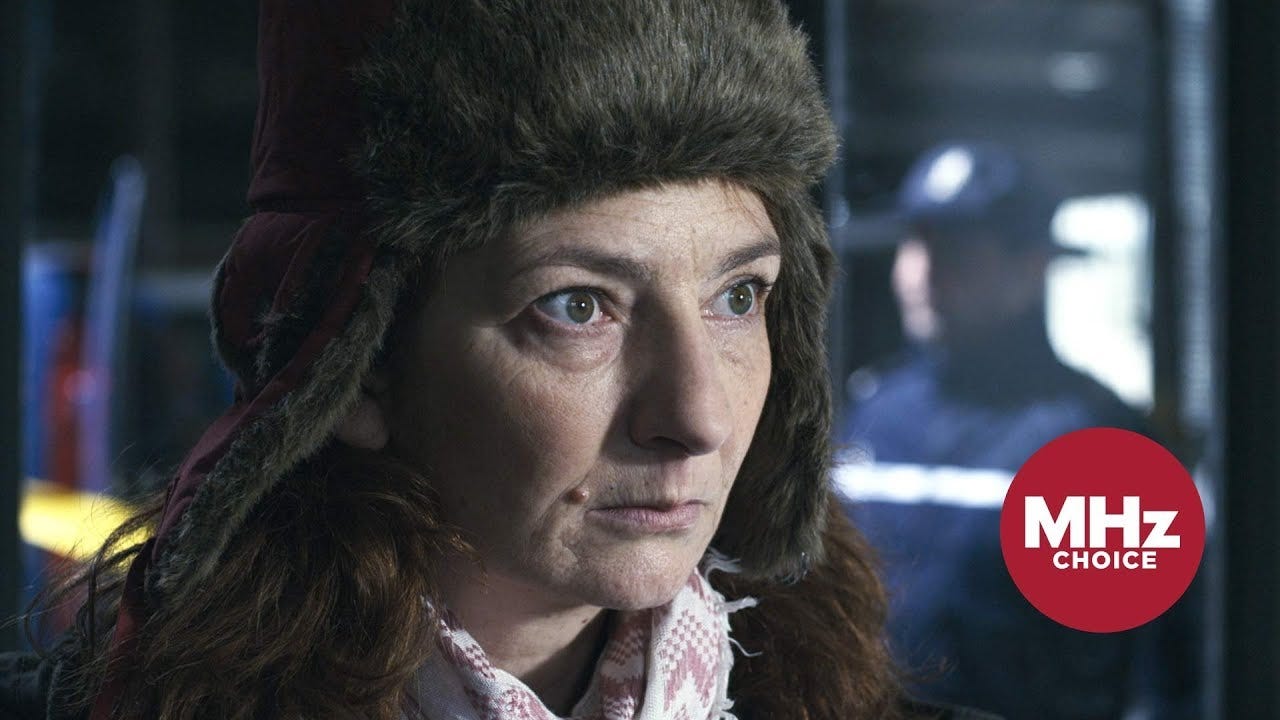 Here is a rundown of the new television programs premiering today:

1) American Catastrophe: How Did We Get Here? (ABC)
ABC News takes a look at America's response to COVID-19 and what we can do to improve the current situation.

2) Captain Marleau Season Two Premiere (MHzChoice)
Creator Elsa Marpeau describes Captain Marleau as a combination of Peter Falk's Columbo, Raymond Chandler's Philip Marlowe and Marge Gunderson from the Coen brothers' Fargo.  The series, directed entirely by Josée Dayan, stars Corinne Masiero as the title character, an eccentric captain of the National Gendarmerie, whose mixed personality of black humor and brute force often separates her from her colleagues.

3) Last Chance U: Laney Season Premiere (Netflix)
Elite athletes with difficult pasts turn to junior college football for a last shot at turning their lives around and achieving their dream.

4) Shark Vs. Whale (NatGeo)
A routine drone survey turns deadly when Ryan Johnson, a marine biologist based in South Africa, films a humpback whale being attacked and strategically drowned by a great white shark. The never-before-seen behavior causes a complete perspective shift on a creature Johnson has spent his life studying. To make sense of the event, he follows humpback whales on their migration, mapping places that may make them vulnerable, and takes a new look at great white sharks to discover how and why they become whale killers.

5) Stockton On My Mind (HBO)
The multi-layered story of millennial mayor Michael Tubbs, whose own experience growing up amid poverty and violence inspired him to create innovative change in his beleaguered hometown of Stockton, California. Born to a teenage mother and an incarcerated father, Tubbs felt society destined him for either prison or death. Defying expectations, at the age of 26 in 2016, he became one of the youngest mayors of a major American city and Stockton's first African American mayor. The film follows Tubbs' efforts to reverse the fortunes of a city known as one of the poorest, most violent and least literate in the nation.

For a rundown of all the new episodes of television premiering tonight, click here.

TOO MUCH TV REALLY IS A THING
This newsletter is called "Too Much TV" because....well, it's hard to keep track of all the new television premiering everyday. To help you prioritize your viewing, click here to see our list of more than 400 upcoming television premieres, movies and finales. You'll find listings from more than 70 networks, as well as streaming services and web shows.

I'll be back with another one tomorrow. If you have any feedback, send it along toRick@AllYourScreens.comand follow me on Twitter@aysrick.