Too Much TV: Your TV Talking Points For Tuesday, August 18th, 2020
Here's everything you need to know about the world of television for Tuesday, August 18th, 2020. I'm writing this from the Twin Cities suburbs, where AllYourScreens HQ is powered by coffee and Cinnamon Bread.

GAMING IN THE MIDDLE OF A PANDEMIC
I don't focus a huge amount of time in this newsletter on gaming, because it's not a subject I cover frequently on AllYourScreens. Still, it does fall in the general catch-all of "media" and it's interesting to me to watch to see how trends in the gaming industry are increasingly becoming indicators for shifts in the media habits of the general public.

There's been a lot of hand-wringing in the television industry as executives attempt to predict what impact the COVID-19 shutdowns will have on viewing habits. There is some anecdotal evidence that audiences are seeking programs that are less confrontational and more comforting to the the soul. But I think it's still not clear whether these are long-terms viewing changes or just a reflection of everyone's collective weariness with the pandemic, the economy and an upcoming election.

It's also not clear what impact the pandemic is having on the gaming industry, other than giving teens a lot more free time to practice their Fortnite skills. But the surprise success of the new game Fall Guys suggests that even gamers are looking for games that are a bit more gentle in spirit while still providing the required level of excitement and skill.

Fall Guys is a Battle Royale-type game, in the same genre as Fortnite, Apex Legends and Call Of Duty: Warzone. The goal in all of these games is to be the last person standing from a group of hundreds or thousands of other players. This winnowing down of players is accomplished in a number of different ways but the primary one usually involves shooting or otherwise killing the other players. Fall Guys has a very chill vibe, with the player elimination being accomplished by a series of mini-games. Rather than killing other players, these games include running, pushing and otherwise being one of the top players in the round, which qualifies you for the next mini-game. And eventually, for the win.

Another wrinkle in Fall Guys is that some of the mini-games require you to partner up with other players in order to advance to the next level. Players are randomly assigned to groups, which live or die on the results of how well they accomplish the task of the mini-game. That differs from most other Battle Royale games, which allow you to play in teams, but generally encourage you to play with people you know.

There are a lot more laughs in Fall Guys than the typical Battle Royale game and it all just seems more innocent and fun. And maybe for that reason, the game has quickly developed a rabid fanbase since its release in early August. Which is surprising given that for now the game is only available for PC and Playstation. But there are already hundreds of Fall Guys play-through videos on YouTube, which is a good way to gauge a game's success in capturing the zeitgeist of the fickle teen gaming market.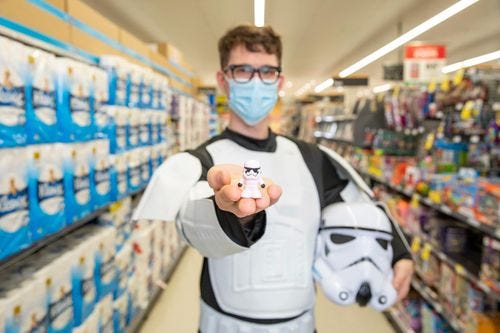 DISNEY+ AND OOSHIES
Given the Borg-like dominance of American intellectual property in global markets, it can be easy to forget that we live in a big world, with important brands and products that are unknown to the American public. But despite our somewhat self-important provincial nature, there are times when it's clear that we have a lot to learn about regional markets. Even when it comes to the entertainment industry. For instance, take a look at this headline:

Disney+ To Partner With Woolworths On Exclusive Line Of Ooshies.

As an American, there are a lot of things to unpack about that sentence. We already know what Disney+ is and that the streaming service is available in a number of countries, including the US, Canada, the Netherlands, Australia, New Zealand, Puerto Rico, Austria, Germany, Ireland, Italy, France, Spain, Switzerland, India, and the United Kingdom.

As it turns out, in this case Woolworths isn't the U.S. drug store chain F.W. Woolworths, the South African retail store chain of the same name or even the defunct U.K. Woolworths business. Woolworths is also the name a major grocery store chain in Australia and along with rival Coles it controls about 80% of the Australian grocery market business.

Ooshies are miniature plastic animals that were first sold in 2017. But Woolworths created a limited-edition line in 2019 to tie in with the release of the live-action Lion King movie. They were also designed to complete with a similar item sold by Coles, called "Little Shop." Woolworths customers were able to claim an Ooshie if they spent $30 in the store and the success of the initial offerings has led to a series of limited-run Ooshies tied into various pop culture characters. The Woolworths line of Ooshies has became a cultural sensation in Australia, with some of the rarer figures selling on auction sites for up to $10,000.

Now Woolworths is teaming up with Disney+ to offer a line of limited-edition Disney+-themed characters, including Elsa from Frozen, Captain Marvel, Woody from Toy Story and the Mandalorian, from the Disney+ series of the same name. The deal was announced earlier this week and it has sparked a frenzy of interest from Ooshie collectors and based on what I've read, there are a lot of them in Australia.

So now you know what a Disney+ Ooshie is and why it matters.

STUDY SHOWS 'PLENTY OF ROOM FOR GROWTH' IN GLOBAL SUBSCRIPTION MARKET
A new study from Ampere Analysis suggests that there is room for 3 billion additional streaming subscriptions across the world's 20 largest media markets. The study sought to establish the theoretical ceiling for SVOD stacking behavior. According to their data, Ampere estimates that the maximum ceiling for SVOD services per household is highest in the U.S., at roughly eight. In Europe, the figure is lower, at between two to five services per household.

Daniel Gadher, research manager at Ampere Analysis, said in a statement that "Even as we begin to see growth in SVOD services in emerging markets, our analysis shows that opportunity for expansion is actually still a very solid proposition in established territories. As cord-cutting continues, the US stacking ceiling is theoretically as high as eight services per average household, while in developing markets like Brazil it is far lower, at just 1.5."

Another interesting finding is that the average American still spends around $900 a year on their television services. They just have increasingly been swapping out expensive cable and satellite television packages for stacked packages of various lower-cost SVOD services.

ODDS & SODS
Amazon announced Tuesday that its conspiracy thriller Utopia will premiere on September 25th. Based on the British series of the same name, the show was originally developed for HBO. It stars John Cusack in his first regular series television role.

Ron Meyer is resigning as NBCUniversal Vice Chairman after disclosing affair and extortion attempt.
Here is a rundown of the new television programs premiering today:
1) Aber Bergen Season Two Premiere (MHzChoice)
Norwegian defense attorneys Erik and Elea balance their personal relationship with their professional partnership in this unorthodox, character-driven legal drama.

2) Alice In Paris Season Three Premiere (Tastemade)
"The series follows Alice (narrated by her own inner monologue), an energetic young woman, through the streets of Paris to find the best food, restaurants, trendy cafes, and more in a city she knows like the back of her hand, but can still easily get lost in. This season, a mixup at a culinary festival sends Alice on a quest to save her reputation and a restaurant on the verge of losing its Michelin star."

3) Dead Pixels Series Premiere (The CW)
The series follows Meg (Alexa Davies) and Usman (Sargon Yelda), who are obsessed with the online fantasy game "Kingdom Scrolls." Meg would happily cut a date short to go home and defend Castle Blackfinger. Nicky thinks the miscasting of Vince Vaughn as Tanadaal in the "Kingdom Scrolls" movie is an international outrage. And Usman has made a plywood lid for his child's playpen, so he can play the game in peace.

4) I Quit Series Premiere (Discovery)
"Entrepreneurs from six businesses risk it all when they give up their steady 9-to-5 jobs to follow their passions in a life-changing journey that begins with the words 'I Quit.'"

5) The Suspect Series Premiere (Sundance Now)
When millionaire Richard Oland of Moosehead Brewing fame suffered a gruesome 45 blows to his head, neck and hands, his son Dennis immediately became the police's prime and only suspect. The case turned one of Canada's wealthiest families into the cast of a real-life soap opera.

TOO MUCH TV REALLY IS A THING
This newsletter is called "Too Much TV" because....well, it's hard to keep track of all the new television premiering everyday. To help you prioritize your viewing, click here to see our list of more than 400 upcoming television premieres, movies and finales. You'll find listings from more than 70 networks, as well as streaming services and web shows.

I'll be back with another one tomorrow. If you have any feedback, send it along to Rick@AllYourScreens.com and follow me on Twitter @aysrick.