Too Much TV: Your TV Talking Points For Tuesday, November 12th, 2019
Here's everything you need to know about the world of television for Tuesday, November 12th, 2019. I'm writing this from the Twin Cities, where AllYourScreens HQ is running on empty.
DISNEY+ IS HERE
This will be an uncharacteristically short newsletter, since Disney+ has officially just launched and I am wading in to review all of the new original content. But I will pass along a couple of quick thoughts about what I've seen so far.

The interface is clean and easy to use. You can download titles on mobile for watching off-line, which is a plus. And as you might expect, the movie catalog is impressive. Lots of "Star Wars," Marvel titles and a wealth of classic Disney animated movies. And much, much more. There had been some speculation Disney might have held off on announcing something ahead of the launch in order to surprise fans, but from what I can tell that aren't any real unexpected finds.

The disappointment for me is on the television side. There are dozens of Disney Channel programs, every episode of "The Simpsons" and a solid selection of shows from National Geographic. But if you're older than 20, there isn't going to be a lot to watch. Which is strange given that Disney not only owns ABC Studios and Touchstone, but newly acquired assets from the purchase of Fox. Some of their programs are streaming elsewhere and I am speculating that they are keeping most of the adult primetime shows available for Hulu. That hunch is strengthened by the fact that Disney recently announced it is launching "FX on Hulu," which includes moving some original stuff from FX to Hulu. But I was still hoping Disney+ would have a few more obscure TV shows in its collection that aren't available for streaming elsewhere.

As for the originals, "The Mandalorian" is a lush, well-made spin-off of the "Star Wars" story that is a lot of fun. I'm really looking forward to seeing more. Also worth watching is the Kirsten Bell reality series "Encore!," which originally ran as a stand-along special on ABC. It's a sweet and heartwarming series that reunites former high school drama clubs to put on one last show. The premiere hour centers on a production of "Annie" and it is markedly better than next week's episode. Still, even a lesser episode of "Encore!" will put a smile on your face. Your interest in "The World According To Jeff Goldblum" will probably hinge on whether watching him examine a subject like sneakers for an hour is a smart use of your time.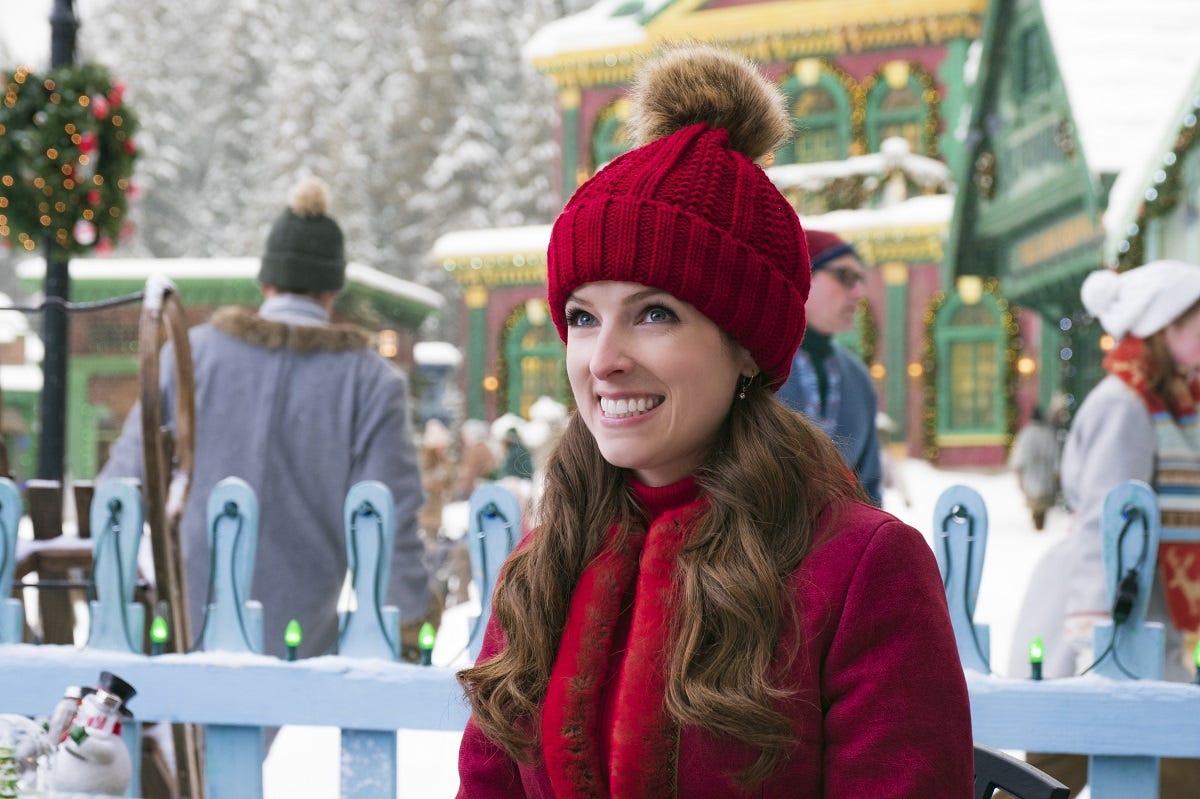 Amazingly, Disney+ is not the only outlet with premieres today. Here is a rundown of everything you need to know:

1) Chopped Junior Season Premiere (Food)
In the season premiere, turkey-themed baskets keep the kid chefs in the right state of mind as they try to make a meal that guest judge David Dobrik will gobble up, starting with a bucket of turkey meatballs in round one. A rare form of mashed potatoes makes for a hearty hurdle in the entree round, but will the two remaining kids be thankful for or fearful of the dessert goodie in the third basket?

2) Encore Series Premiere (Disney+)
Executive producer Kristen Bell brings together former castmates of a high school musical, tasking them with re-creating their original performance in high school reunion like no other. Emotions run high as the former students face faded friendships, former flames, self-doubt, and killer choreography. Through it all, these unlikely groups of friends—with the help of Broadway's best—just might pull off a standing-ovation-worthy performance of beloved musicals like "The Sound of Music," "Beauty and the Beast," "Annie" and more. [click here to see a photo gallery]

3) Forky Asks A Question Series Premiere (Disney+)
Forky, in Disney and Pixar's "Toy Story 4," is a craft project created from trash, has important questions about how the world works, such as: What is love? What is time? And of course, the deepest question of all, What is cheese? He explores all of these questions and more in a collection of 10 shorts.

4) High School Musical: The Musical: The Series (Disney+)
This 10-episode scripted series, set at the real-life East High, where the original movie was filmed, follows a group of students as they countdown to opening night of their school's first-ever production of "High School Musical." The show follows East High juniors Ricky and Nini, who just returned from summer camp with a new-found voice, confidence and ambitious boyfriend, E.J. With the help of his best friend, Ricky launches a plan to win back the heart of his ex-girlfriend Nini by auditioning to stage opposite her in the school's first-ever theatrical production of "High School Musical."

5) King Of Pain Series Premiere (History)
This unscripted series follows wildlife biologist Adam Thorn and professional animal handler Rob "Caveman" Alleva as they get bit and stung by some of the most dangerous animals and vicious stinging insects in the world – from a reticulated python to a rove beetle – to create a complete and comprehensive pain index that will ultimately help save lives.
6) Marvel's Hero Project Series Project Series Premiere (Disney+)
The series reveals the remarkable, positive change several young heroes are making in their own communities. These young heroes have dedicated their lives to selfless acts of bravery and kindness, and now, Marvel celebrates them as the true Super Heroes they are.

7) Noelle (Disney+)
Kris Kringle's daughter is full of Christmas spirit and holiday fun, but wishes she could do something "important" like her beloved brother Nick, who will take over for their father this Christmas. When Nick is about to crumble like a gingerbread cookie from all the pressure, Noelle suggests he take a break and get away...but when he doesn't return, Noelle must find her brother and bring him back in time to save Christmas. [click here for a photo gallery]

8) The Imagineering Story Series Premiere (Disney+)
Creating happiness is hard work. This six-hour saga by Academy Award nominated director, Leslie Iwerks, chronicles the sixty-seven year history of Walt Disney Imagineering, a place best described as equal parts artist studio, design center, think tank and innovation laboratory. This is where an eclectic group of creative people bring ideas to life. They're responsible for building twelve theme parks around the world - the Happiest Places on Earth.

9) The Lady & The Tramp (Disney+)
In this film that was pulled from its intended movie release to open instead on Diney+, this timeless re-telling of the 1955 animated classic centers around a pampered house dog and a tough but lovable stray who embark on an unexpected adventure and, despite their differences, grow closer and come to understand the value of home.

10) The Mandalorian Series Premiere (Disney+)
After the stories of Jango and Boba Fett, another warrior emerges in the Star Wars universe. "The Mandalorian" is set after the fall of the Empire and before the emergence of the First Order. We follow the travails of a lone gunfighter in the outer reaches of the galaxy far from the authority of the New Republic.

11) The World According To Jeff Goldblum (Disney+)
Through the prism of Jeff Goldblum's always inquisitive and highly entertaining mind, nothing is as it seems in this new series. Each episode is centered around something we all love – like sneakers or ice cream – as Jeff pulls the thread on these deceptively familiar objects and unravels a wonderful world of astonishing connections, fascinating science and history, amazing people, and a whole lot of surprising big ideas and insights.

12) Very Ralph (HBO)
Directed by Emmy winner Susan Lacy, this portrait of Ralph Lauren explores the life and career of one of the most successful designers in American fashion and reveals the man behind the icon. With an uncanny ability to turn his dreams into reality, Lauren has cultivated the iconography of the American dream as a global lifestyle brand. Through extensive and candid conversations, Lauren reflects on his pioneering vision, his five-decades-long marriage and how a boy from the Bronx who knew nothing about designing fashion built a multi-billion-dollar global empire. The film also includes intimate interviews with family, colleagues, journalists and other notables.

For a rundown of all the new episodes of television premiering tonight, click here.

TODAY'S TV FLASHBACK
There was a time when the executives at NBC thought Chef Emeril Lagasse would make a fine sitcom star. No...really.

TOO MUCH TV REALLY IS A THING
This newsletter is called "Too Much TV" because....well, it's hard to keep track of all the new television premiering everyday. To help you prioritize your viewing, click here to see our list of more than 400 upcoming television premieres, movies and finales. You'll find listings from more than 70 networks, as well as streaming services and web shows.

And if you're a glutton for punishment (or just want to know what you've missed), check out this list of all the shows that have premiered so far in 2019.

I'll be back with another one tomorrow. If you have any feedback, send it along to Rick@AllYourScreens.com and follow me on Twitter @aysrick.