Too Much TV: Your TV Talking Points For Thursday, July 25th, 2019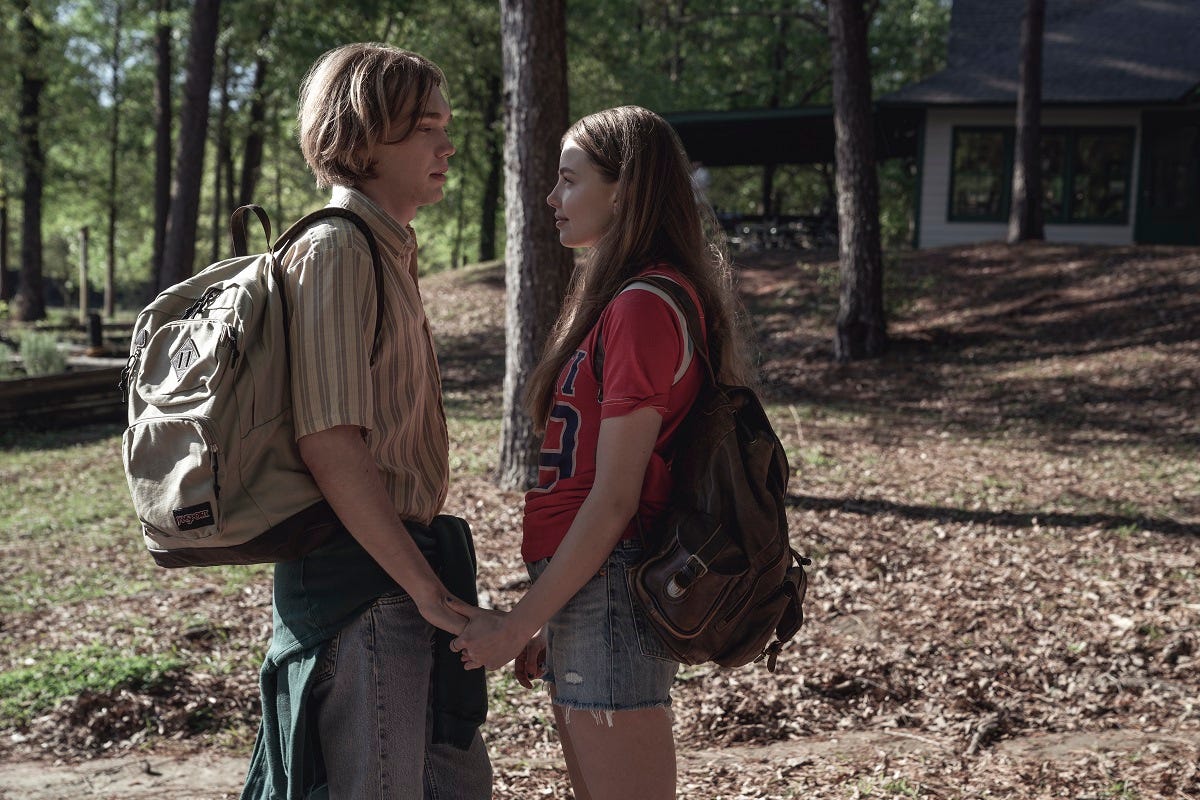 Here's everything you need to know about the world of television for Thursday, July 25th, 2019. I'm writing this from the Twin Cities, where AllYourScreens HQ is running on warm tea and mini donuts.

YOU MIGHT NOT HAVE NOTICED, BUT THE TCA'S BEGAN ON WEDNESDAY
The TCA Press Tour takes place twice a year in January and July in Pasadena. It's the time when the 200-or-so members of the Television Critics Association are put together with television network executives, as well as the cast and crew from upcoming TV shows. In recent years, the TCAs haven't generated a lot of big news, but they are a time when the networks dump a lot of casting and premiere info out at one time. The TCA's began this week and here's a bit of what you missed so far.
A LOT OF HBO NEWS
HBO announced a number of new shows and specials late Wednesday: "A Lady Black Sketch Series," the limited series "Our Boys," the drama series "His Dark Materials" and of course, the upcoming Damon Lindelof take on "Watchmen."

Also, "Silicon Valley" returns for a sixth and final season in October and the anthology series "Room 104" will return September 13th. HBO also announced a new lineup of documentaries.

FORMULA 1 IS RETURNING TO NETFLIX
Formula 1 and Netflix have confirmed that a second season of "Formula 1: Drive To Survive," which will follow teams and drivers at every stage of the 2019 FIA Formula One World Championship, will be out in 2020. The big change from season one of the show is that the upcoming season will follow all ten Formula One teams.

AND A WEE BIT OF 'JEOPARDY' IS COMING TO NETFLIX
Netflix announced Monday that it has acquired 45 episodes of the quiz show "Jeopardy" — all of which are currently available on rival Hulu. The 45 episodes headed to Netflix are a subset of the 60 currently streaming on Hulu.

SOME SPECIALS COMING TO YOUR LOCAL PBS STATION
WNET announced some of the specials they'll be bringing to PBS this fall and it's the station's typical mix of pop culture and deep dives into history.

*Season 38 of the award-winning "Nature" series launches with "Octopus: Making Contact," a fascinating deep dive into the world of cephalopod research and the intelligence and unique abilities – including facial recognition and solving puzzles – of these remarkable sea creatures. The documentary follows the unique story of Heidi, a pet day octopus, and its evolving relationship with scientist Dr. David Scheel and his teenage daughter Laurel. The new season continues with Nature documentaries that showcase crucial conservation stories and new animal behavior, including bears, nature's biggest beasts, Nicolas Brown's "The Serengeti Rules" and a three-part miniseries on the Okavango Delta.

* Season 33 of "American Masters" wraps up this fall with three new documentaries. "Raúl Juliá: The World's a Stage premieres Friday, September 13th in honor of Hispanic Heritage Month. Discover the life and career of Raúl Juliá, the charismatic, award-winning actor and humanitarian known for versatile roles on stage and screen, from Shakespearean plays to "The Addams Family." This revealing portrait features Rita Moreno, Edward James Olmos, John Leguizamo, Anjelica Huston, Jimmy Smits, Esai Morales, James Earl Jones, Andy Garcia and many others. A new documentary about painter Mark Rothko, American Masters – Rothko: The Pictures Must Be Miraculous, premieres Friday, October 25th. And in the Season 33 finale, "American Masters – N. Scott Momaday: Words from a Bear," delve into the enigmatic life and mind of the Pulitzer Prize-winning author and poet N. Scott Momaday, best known for "House Made of Dawn," and a formative voice of the Native American Renaissance in art and literature. It premieres Monday, November 18th in honor of Native American Heritage Month.

* The third annual lineup of Great Performances "Broadway's Best" will shine a spotlight on stellar productions of five beloved productions, including "42nd Street" (November 1), the Broadway fable of a star-struck chorus girl dreaming of her big break; "Rodgers & Hammerstein's The King and I" (November 8), Lincoln Center Theater's Tony Award-winning revival of the beloved musical classic inspired by the true story of a British school teacher in the royal court of Siam starring Kelli O'Hara and Ken Watanabe; "Red" (November 15), the Tony Award-winning play starring Alfred Molina as painter Mark Rothko; "Much Ado About Nothing" (November 22), The Public Theater's Free Shakespeare in the Park modern interpretation of Shakespeare's romantic classic featuring Danielle Brooks and Grantham Coleman and directed by Tony Award-winner Kenny Leon; and "Kinky Boots" (November 29), the 2013 Broadway blockbuster about an unexpected duo joining forces to create an extraordinary line of shoes featuring music and lyrics by pop icon Cyndi Lauper and a book by Broadway legend Harvey Fierstein.

* And PBS itself announced a new slate of upcoming documentaries, including new seasons of "Frontline" and "Independent Lens," as well as the new Ken Burns film on Country Music.

AND IN CASE YOU MISSED IT..
"Looking For Alaska" is an 8-episode limited series based on the John Green novel of the same name. It centers teenager Miles "Pudge" Halter (Charlie Plummer), as he enrolls in boarding school to try to gain a deeper perspective on life. He falls in love with Alaska Young (Kristine Froseth), and finds a group of loyal friends. But after an unexpected tragedy, Miles and his close friends attempt to make sense of what they've been through. "Looking For Alaska" will premiere Friday, October 18th on Hulu. See a first look at photos from the series here.

TOO MUCH TV REALLY IS A THING
This newsletter is called "Too Much TV" because....well, it's hard to keep track of all the new television premiering everyday. To help you prioritize your viewing, click here to see our list of more than 400 upcoming television premieres, movies and finales. You'll find listings from more than 70 networks, as well as streaming services and web shows.

And if you're a glutton for punishment (or just want to know what you've missed), check out this list of all the shows that have premiered so far in 2019.

If you'd like to get this daily feature as an email, subscribe to our free daily "Too Much TV" newsletter here.

WHAT'S NEW ON TV TONIGHT:
Here's a rundown of the modest amount of television premiering tonight:

1) Angel Banks: The Real Bling (WEtv)
Angel Brinks is hip hop's top designer who has worked with the likes of Rihanna, Cardi B, Lil' Kim, Missy Elliott, Nicki Minaj, and others. Her next challenge is to put on the show of a lifetime at L.A. Fashion Week with the help of her talented staff. Will she wow the crowd, or will team drama keep her from reaching even higher heights?

2) Another Life (Netflix)
The 10-episode series "Another Life" centers on astronaut Niko Breckinridge (Katee Sackhoff) who is focused on searching for alien intelligence. She leads a crew on a mission to explore the genesis of an alien artifact. As Niko and her young crew investigate, they face unimaginable danger on what might very well be a one-way mission.

3) Chasing The Cure (TBS/TNT)
South Side is an aspirational, scripted comedy set in and around the working class neighborhood of Englewood on the South Side of Chicago. The show follows two friends who just graduated community college...so now they're ready to take over the world! But until they do they're stuck at Rent-T-Own, a retail-rental crossroads where the South Side's vast ensemble of characters come together. Despite the obstacles of inner-city life, these friends and their co-workers all strive to achieve their entrepreneurial dreams. Brought to life by local Chicagoans, both in front of and behind the camera, this show gives viewers an authentic portrayal of what life on the South Side is all about. It's evidence that what you see on the news is only a small piece of the city. It's written by Bashir Salahuddin (Glow) and Diallo Riddle (Marlon). Salahuddin, Riddle, and Michael Blieden - all Late Night with Jimmy Fallon alumni — are executive producers.

4) Listing Impossible Series Premiere (CNBC)
Aaron Kirman and his team's genius lies in their willingness to speak truth to money. On "Listing Impossible" they show the homeowners the error of their ways – whether they want to see it or not. If the owner thinks his garish décor is an asset and not a liability…Aaron will set him straight. If the owner insists her home should be marketed to the young celebrity crowd simply because she too was once a young celebrity, Aaron will let her know just how wrong she is – and why. And if the owner believes the home is worth $2 million more than the market will bear simply because she raised her kids there and isn't quite ready to sell…Aaron will get her to see that she needs to let go.

There are things that most real-estate-agents-to-the-rich won't say. Aaron and his team – not so much.

5) Tiananmen: The People Versus The Party (PBS)
On the night of June 4, 1989, Chinese troops entered Tiananmen Square in Beijing, violently crushing the largest pro-democracy demonstrations in the history of the Communist regime. Images from those final bloody days still resonate today and the death toll — from the official Chinese figure of 300 to estimates as high as 15,000 — continues to be disputed. This is is a day-by-day account of the dramatic seven weeks during which students and ordinary Chinese citizens made a stand for more freedom — a protest with ramifications that would shape the future of the modern superpower.

6) Workin' Moms Season Two Premiere (Netflix)
Maternity leave is over and it's time for these four moms to return to work while navigating kids, bosses, love and life in modern-day Toronto.

For a rundown of all the new episodes of television premiering tonight,click here.

TODAY'S FLASHBACK:
This is one of those great almost-forgotten shows I wish was airing on some diginet or streaming somewhere: the 1989 comedy "Anything But Love." The show starred Richard Lewis as Marty Gold and Jamie Lee Curtis as Hannah Miller, coworkers at a Chicago magazine with a mutual romantic attraction to each other, who struggled to keep their relationship strictly professional. It aired four seasons on ABC.


I'll be back with another one tomorrow. If you have any feedback, send it along to Rick@AllYourScreens.com and follow me on Twitter @aysrick.