Too Much TV: Your TV Talking Points For Monday, November 28th, 2022
Here's why "Glass Onion" didn't receive a longer theatrical release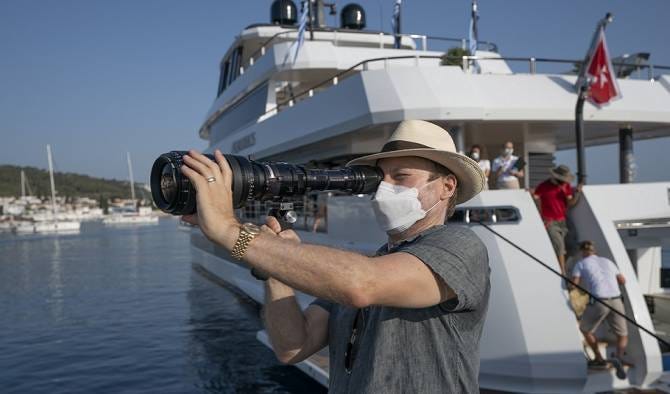 Here's everything you need to know about the world of television for Monday, November 28th, 2022.

WHY DIDN'T NETFLIX OPEN 'GLASS ONION' WIDER IN THEATERS?
While Netflix didn't release any box office number for its week-long theatrical run for Glass Onion (which premieres on the streamer in late December), the film seems to have grossed somewhere in the $15-18 million range, depending on which outside estimate you believe.

That's enough to make the film at least a temporary box office success-especially given the modest number of screens carrying the film. As a result, there have been a flurry of stories in the past few days asking some variation of the same question: "Did Netflix leave money on the table by not giving Glass Onion a full-blown theatrical release before moving it to streaming?

Yes...but is probably the best answer available without having access to internal Netflix numbers. But there are a few factors we can gather from public sources and from some of the background discussions I've had with Netflix executives over the past few months.

First, it's important to note that Netflix almost certainly lost money on this "experiment." The streamer gave theaters a bigger percentage of the box office than is the norm and it apparently also ponied up the same marketing money for the week-long run that it would have spent on a month-long stint. If that's the case, it's almost certain that Netflix lost somewhere between $5 and $8 million dollars on the move.

It's true those figures would change with an extended theatrical run. But one road bump that I've written about before in this newsletter is that the original $469 million deal Netflix negotiated to get the two Knives Out sequels purchased all the back end for the films. But according to sources I've spoken with familiar with the terms of the deal, it also included limits on how long the movie could screen in theaters before terms of the deal would have to be renegotiated. The Knives Out partners were fine selling the back end. But they didn't want to do that and then have Netflix give the films a traditional theatrical and VOD run, which would have potentially cost the film's producers back-end money down the road.

But assuming that can all be worked out, there are real questions about whether it's in Netflix's best interests to give the film a full-blown theatrical run. While it's impossible to know how much of the weekend box office for the movie came from people who knew they had a limited amount of time to see the film in a theater, it seems clear Glass Onion would have had a successful extended theatrical run. $350-400 million worldwide is likely a reasonable total box office estimate in the current environment. So let's optimistically say that after marketing costs and the theaters take their cuts, Netflix would be left with $100 million. 

That's not a small amount, but Netflix executives apparently consider that to be the less attractive option for the film: release it to theaters, make $100 million and then move it to Netflix like any other successful theatrical film.

For Netflix, there is a lot of value in having Glass Onion hit Netflix in late December as the fourth quarter draws to a close. The film's brief theatrical run has provided tens of millions of dollar of earned media coverage. And that coverage is only growing thanks to the current discussions about whether the film should have stayed in theaters.

Netflix now has the ultimate buzzworthy original film and in an era where customer acquisition costs in mature markets such as UCAN and Europe are rising steadily, having a reminder to subscribers (and potential subscribers) that Netflix has movies that matter is worth every bit of $100 million to the company.

It might seem counter-intuitive to traditional Hollywood practices. But when you look the situation through that lens - especially given the contractual constraints Netflix is working under - their approach seems to me to be the best option available.

Too Much TV Newsletter is a reader-supported publication. To support my work, consider becoming a paid subscriber.
HOLLYWOOD PRODUCERS ARE NOT HAPPY
The Ankler's Nicole LaPorte has a really great look at what is going on with Hollywood's producers and based on this piece, many of them are struggling in their own way as much as writers, support staff and every other part of the industry right now:

Netflix, Amazon and Apple also brought to Hollywood their heavy bureaucracy and worship of dotted I's and crossed T's, greatly shifting a culture famous for "the handshake deal." 
"You don't know how many things we produced where the long form wasn't signed until after delivered," says the PGA winner. "It used to be, you only need a signed deal to protect yourself from the downside." This wasn't just a form of collegiality. It helped producers survive because they don't receive upfront fees like writers, directors and actors. But at the streamers, and now the studios, who have become increasingly corporatized, no money is paid until everything has copiously gone through business affairs. And the latter, this producer said, "is out to screw us." 
"Netflix and the streamers destroyed the relationship side of the business. There's no trust and no relationship anymore. It's now just commerce." 

If I have a caveat about those complaints is that the old "Hollywood runs on relationships" attitude also enabled a lot of bad deals and inept productions. It's not uncommon for someone to be much better at the schmoozing than doing the actual work. So maybe finding a sweet spot in between glad-hander and accountant would work best for the industry.

And if you wonder why so many people in Hollywood celebrated when Netflix had a couple of bad quarters, this exchange might help explain the animosity:

A TV producer of a hit cable series recently shared this story: Not long after enduring a contentious back-and-forth with Netflix while negotiating a deal on a half-hour series, he ran into Ted Sarandos and Reed Hastings at a BAFTA event. "Fuck it," he thought, and he walked up to the pair. "You guys are being really difficult making a decent deal," he said. 

Sarandos smiled. "Yeah! We know!"

"Why would you do that?," the producer went on. "Why would you treat people like us — who are bringing you projects — like that?"

Sarandos smiled again. "You'll be back."  

While I think there are upsides for everyone when it comes to the trend of buying out the back-end of streaming shows and movies, that also can remove any incentive for producers and writers to continue working to make the production better:

On a recent theatrical film, where this producer received a traditional back-end gross deal, he said, "I would go into meetings and say, 'Why don't we do this and this to help push the numbers, because I knew, the better it did, the more money all of us would make. But once you're in that buy-out mode, it doesn't matter if you help make the studio earn double what they could have by doing something different. It makes no difference (to your own compensation). So you're often trying to find the next one as opposed to focusing on the one you could help on." 

Although, I'm not sure that helping to be responsible for a movie or show that is disappointing would be considered to be a resume builder.

COX AND DISH TV 
Cox Media Group has pulled its local station signals from Dish TV in nine markets.

Part of the problem (as always) is the price Cox Media is asking for retransmission rights of its local stations. But Cox is also unhappy with Dish's decision to allow customers to opt out of receiving the Cox stations if they prefer to watch them with an over-the-air antenna. According to Dish, Cox Media is insisting it should get paid whether or not the subscriber opts to receive the station. Dish is also arguing that Cox Media is requesting to be paid for several stations it does not yet own.

Here is a list of the affected stations:
(ABC: WSB) - Atlanta, GA

(FOX: WFXT) - Boston, MA

(ABC: WSOC) - Charlotte, NC

(CBS: WHIO) - Dayton, OH

(FOX: KLSR) - Eugene, OR

(FOX: WFOX) - Jacksonville, FL

(ABC: WFTV) - Orlando, FL

(NBC: WPXI) - Pittsburgh, PA

(CBS: KIRO) - Seattle, WA

THE MYSTERIOUS DISAPPEARING 'FLEISCHMAN IS IN TROUBLE' PROFILE PIECE
The Daily Beast's Confider newsletter has an odd story about a profile of Taffy Brodesser-Akner that mysteriously disappeared from the Jewish Telegraphic Agency after two days:

The decision to wholesale delete the profile left Rosen confused, she told Confider, as she felt the interview went off without a hitch. "Nothing was mischaracterized," she asserted. "We had a lovely conversation and I wrote the article with respect and integrity. Then, the next thing I'd heard, it had been taken down." 

Neither JTA nor FX offered any clarity when reached. "After the story was published, the subject reached out to us with concerns about the story," Philissa Cramer, JTA's editor in chief, said in a statement. "We reviewed the story and determined that during the editorial process some elements of our interview had been mischaracterized. We then decided to remove the story." Brodesser-Akner did not respond to multiple requests for comment and FX merely pointed to JTA's posted explanation.

WHAT'S NEW FOR MONDAY:

Family Reunion: Love & Hip Hop Edition (VH1)
Feral Series Premiere (Outdoor)
Kids Baking Championship: All-Star Holiday Homecoming (Food)
Southern Hospitality Series Premiere (Bravo)
The Action Pack Saves Christmas (Netflix)
The Great Christmas Light Fight Season Premiere (ABC)
Whistable Pearl Season Premiere (Acorn TV)

Click Here to see the list of all of the upcoming premiere dates for the next few months.

SEE YOU TUESDAY!

If you have any feedback, send it along to Rick@AllYourScreens.com and follow me on Twitter @aysrick.